Here we are… again.. with no engine cooling… Stuck in Gary Indiana.
I (Michael) am not a mechanic by trade. I'm very capable at doing about anything I set my mind to, but there's certain trade knowledge I just don't have. This time, that really bit us.
It seems, new gear boxes don't ship with lubricant. This seems obvious in retrospect due to the weight savings for shipping, but with no warning labels or stickers indicating such, it didn't occur to me that this shiny new gear box would be anything other than 100% ready for use.
Alas, the new, dry gear box got us a mere hour or so down the road before it obliterated its internals.

The engine overheated again, and this time, we got stuck on the side of I-94/I-80 in Gary Indiana during rush hour traffic. When I got to the engine compartment, the fan clutch was smoking.. its output shaft was stopped, not free spinning like the prior failure. And, with the engine being hot, it had engaged the clutch to the 'locked' state. I radioed to Lehnanne and she shutdown the engine immediately.
In order to move off the interstate and to safety, we had two options:
Call a heavy tow company and pay… a lot.. to get relocated to safety.
Figure out a way to limp with the coach under power and go a short distance.
After evaluating things, we decided on the 2nd option. I was able to remove the fan drive belt which would allow the engine to run without further destroying the fan clutch ( which is likely already a goner ), and without further destroying the fan drive belt ( which I do have a spare on board for ).
Being able to move, slowly… but ready to jump out into rush hour traffic of a combined interstate … not one in the same. This would be a dangerous maneuver on our own. So, we called emergency services and explained our situation. They sent two state police to escort us!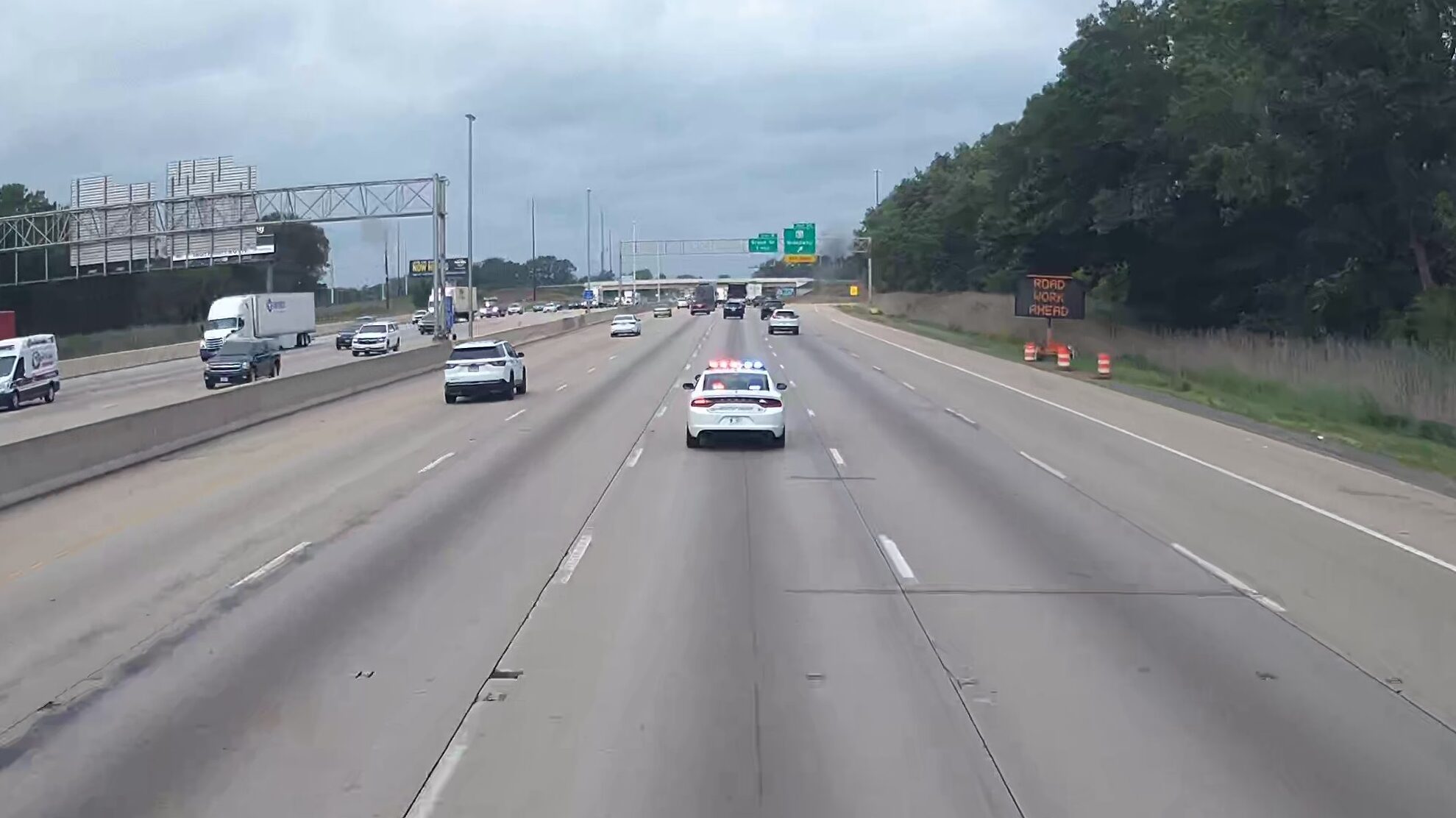 After traveling about 5 miles, at 20 to 30mph, we arrived at a Petro truck stop. The master mechanic on their service side was elbows deep in an air compressor replacement on a Class 8 truck, but said he'd be happy to take a look once he had it back together.
In the interim, I dropped the shield pan from under the radiator / fan assembly ( as I'd just done the day before ) to evaluate the situation. It was clear after a bit of examination — the gear box was toast. I could force it to move, but only slightly.
After several phone calls, trying to find someone to do the work, trying to get an address for the part to ship to, and trying to get the part itself… here's where we stand:
There are ZERO new gear boxes available!

Tiffin parts has none.
The manufacturer doesn't stock any gear boxes — they're all custom order with a 12+ week lead time.

There are lots of truck repair places that won't touch an RV, no matter how similar the systems and no matter how simple the repair.

This may be different with an RV built on a truck chassis – Freightliner for example.
Tiffin however, make their own Powerglide chassis for some coach models.
While it's top notch for RV's, there are certainly fewer service options.

The good news, the master tech here at the Petro took a look and said it'll be no problem for him to perform the replacement!

Yes, I could do the replacement again, by myself.
But, I'm super sore and have bruises from the first round… and the gearbox was lighter then ( no lube oil )
Thus, I'm more than happy to pay someone who works on diesel trucks all the time to perform the work.

The other good news – Tiffin has several of the gear box units that were returned which are in normal working order, but just leak fluid.

Tiffin is going to replace the seals on one of those units, and overnight ship it to me!
The hope is, this replacement will ship today, for arrival tomorrow.
And, that's where we are right now… Stuck, in Gary Indiana, at a Petro truck stop with limited ability to move the coach any distance and only 30% fresh water (but no fill ability near by). We're parked as out of the way as possible and safe. We'll update the blog when we have more to share.