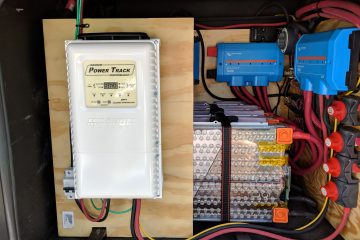 That is not a typo… our RV is now powered by TESLA! Well, Tesla battery modules that is! Oh, and the Sun! Yes, the Sun, too!
WARNING — This post is full of technical content. Here's the TLDR;
Our original House batteries only powered part of our coach via the inverter, and could only power the coach in a boondock situation for about 4 to 6 hours. After that, the battery voltages were below 11.8vdc and we'd have to start the Generator.
Our new Tesla batteries can power ALL of the coach, not every load in parallel, but 2 of 3 ACs can be running at the same time! Given the same loads that would only last 4 to 6 hours on the old batteries, we can now last indefinitely on the batteries / solar combo!
Check the bottom of the post for loads of photos!