Our winter was… an adventure…
Nevada
After taking delivery of our Rivian and having our normal polish, wrap, ceramic coat applied, we decided to make a trip to Kentucky to surprise my (Michael's) family for the holidays. This would be our first experience loading the R1T into the car hauler, and of course, our first travel with the new truck.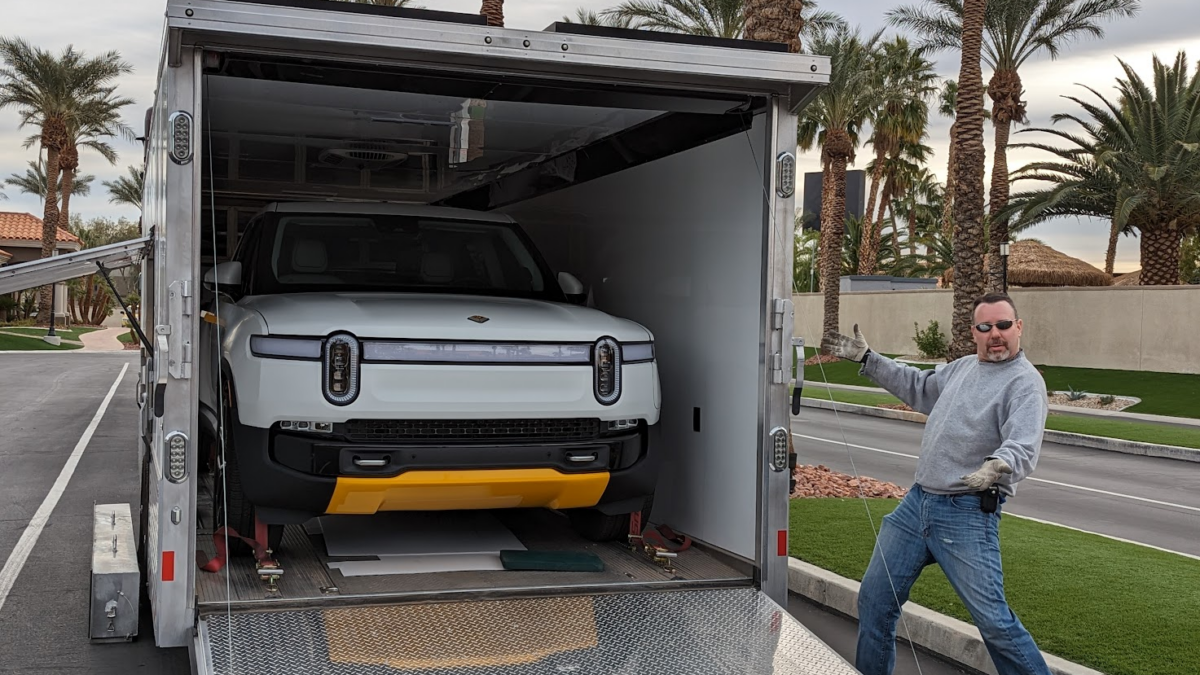 Oklahoma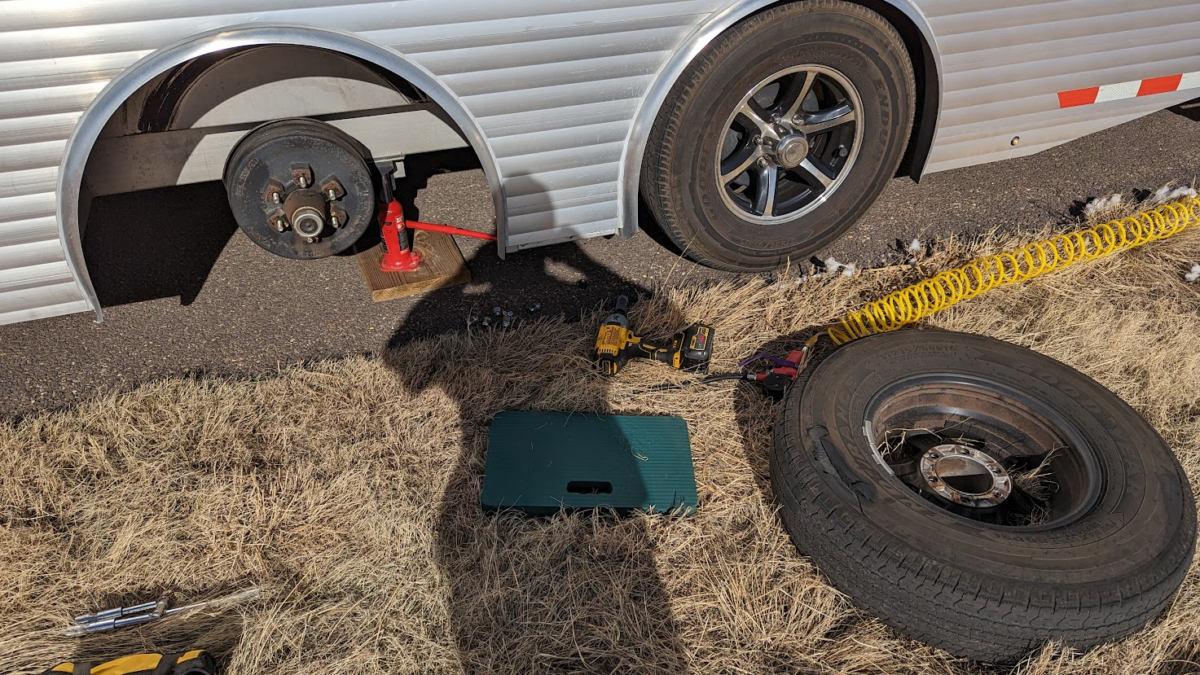 Our travel was a bit eventful… We had back to back tire failures on our car hauler. Since we used our spare on the first failure, the second proved more fun. We ended up being able to get to Young's Tire in Vinita, OK where the owner graciously opened the shop on a Sunday and we bought 5 new tires! I highly recommend them for their service and great prices.
Kentucky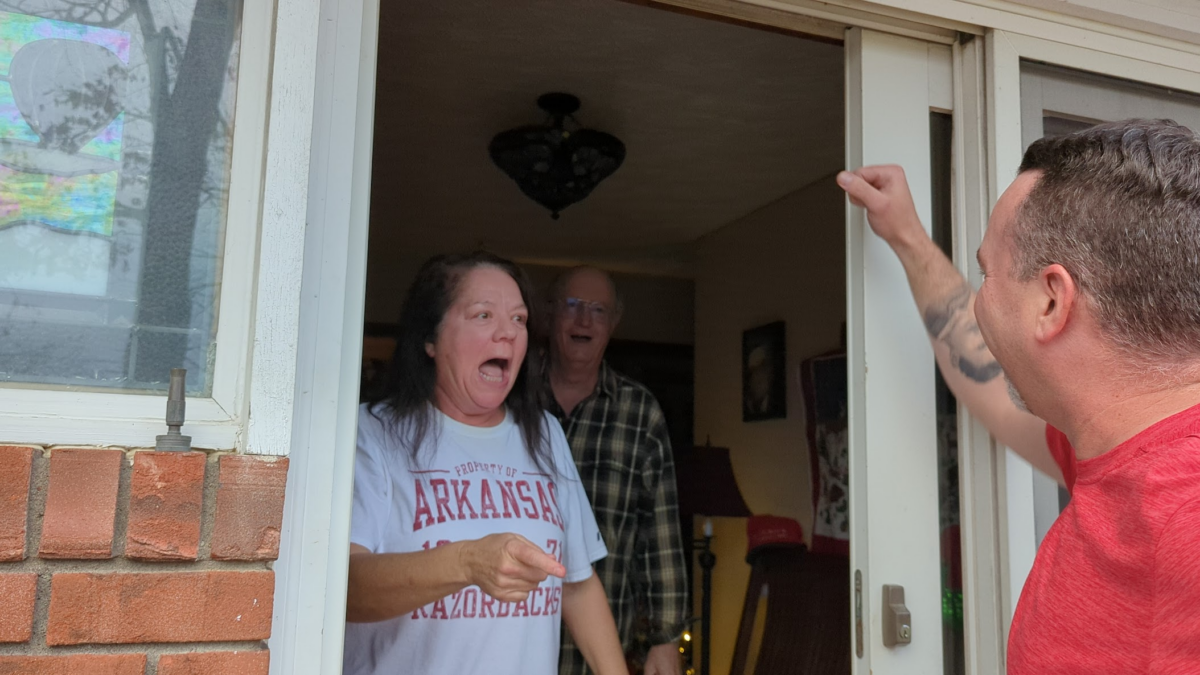 Our surprise arrival went exceptionally well. I had disabled the GPS tracking so it would look like we had stopped in Oklahoma for a few days since I knew my mom periodically checked it. This turned out to be a wise choice since she had indeed looked to see where we were and was met with just a large map with no point on it ( seems my disablement caused it to not display any location ).
Unfortunately, life had more to throw at us.
My little brother and his family ended up being sick for much of the two months we were in town. Not wanting to catch or spread the sickness, we weren't able to spend nearly as much time with them as we'd liked.

We experienced a full 24 hours with temperatures below 0°F! This presented an opportunity to see that we had several weak points in our cold temperature preparations which lead to frozen supply lines, and a frozen sewer hose.

Rebecca "Boo" Ballard with Michael's Mom

Rebecca "Boo" Balard

My step-sister "Boo" spent 10 days in the hospital and sadly, passed on Dec 24th. She was a special soul, born with multiple developmental disorders and not expected to live past the age of 6. At 47, she had well exceeded all expectation. "Don't fall!" ( that was one of her favorite phrases, and she'd cackle with delight if you acted like you were about to fall ). So, on Christmas Eve 2022, we rang a bell and angel Boo got her wings!

We had to buy a new car hauler… The back to back tire failures ( albeit, the tires were over 3 years old, with much of the time spent uncovered in the desert heat ) had me concerned. When researching things a bit, I found that the R1T was so much heavier than the Teslas we had previously towed that it was actually over the weight rating of the trailer, even if there was nothing else in the trailer. And we had.. a LOT of other stuff in the trailer. So, I ended up making a quick jaunt up to Michigan ( leaving the Coach, Lehnanne and fur-kids in KY ) to get a new trailer with 7000 lb axles ( vs the 5500 lb axles of our, then current, trailer ). The trip up and back was very exhausting since the wind kept blowing me around with the empty trailer, but I made it there and back in one piece.

Our AquaHot burner/blower motor bearings failed. Thanks to HeatMyRV's expedited shipping, we were back in service within 2 days.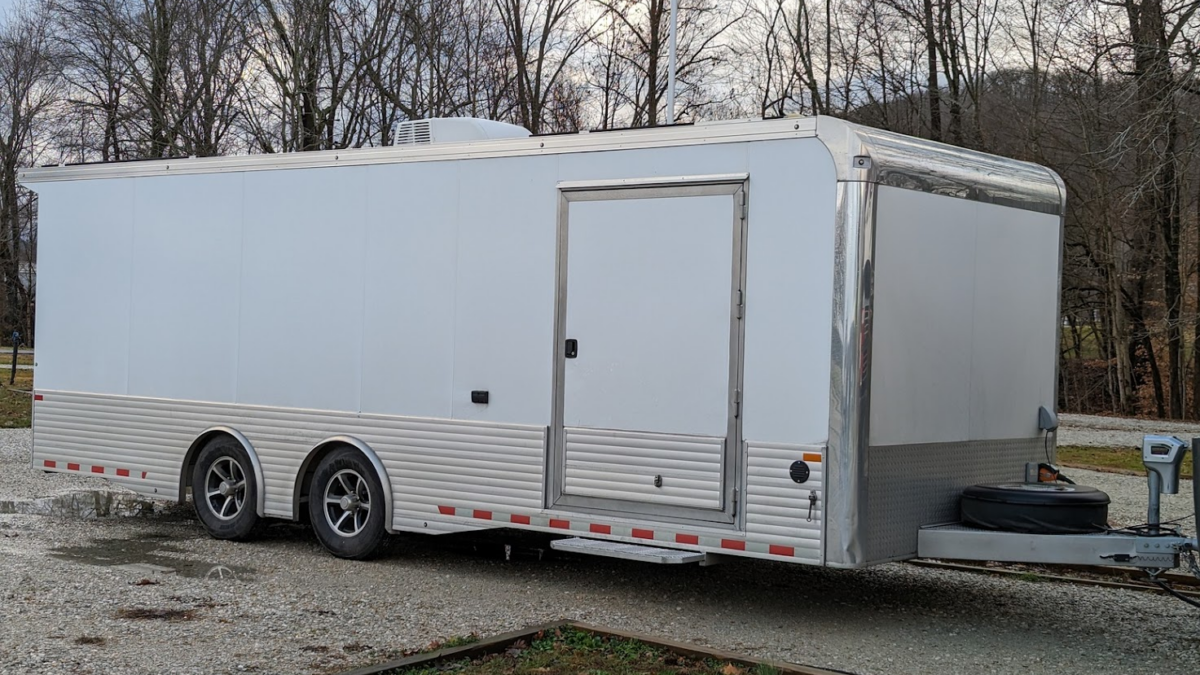 We don't want you to think it was all terrible. We had a great time with the family, even with our limited interactions. Like most visits, there's never enough time to do everything we had planned.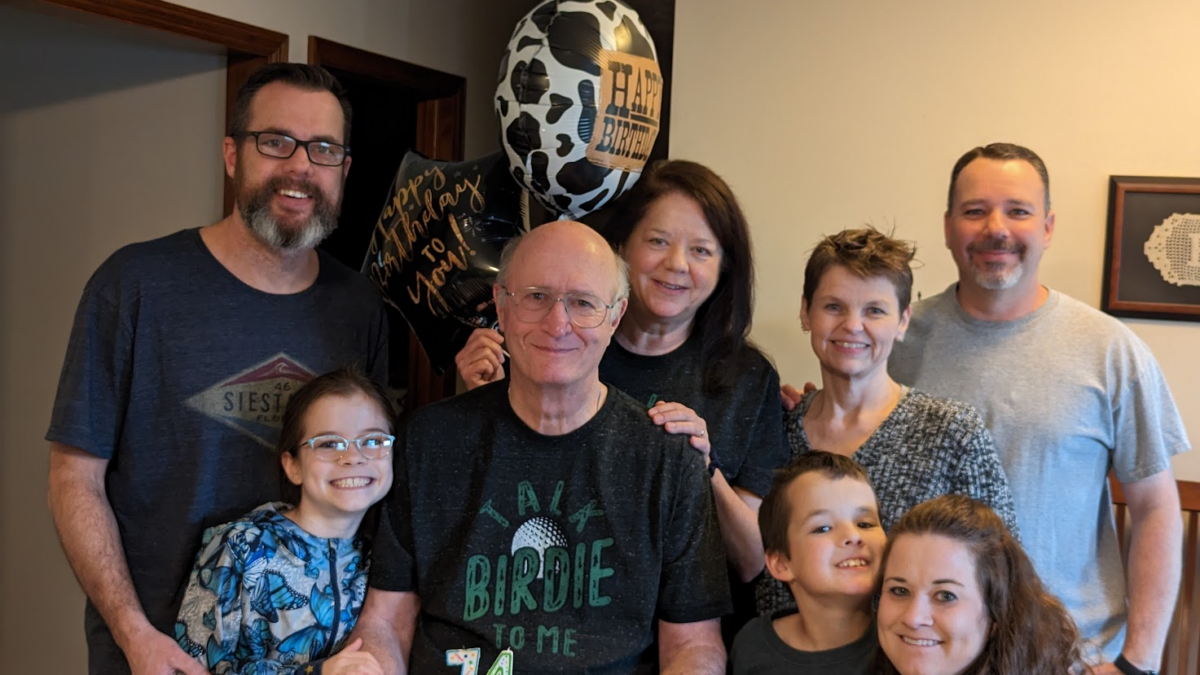 Arkansas
When we departed Kentucky, we opted to spend 5 days in West Memphis, AR.. then on to the DFW area of Texas. Lucky us, we experienced over an inch of ice in West Memphis… Glad we had our LiPo batteries and generator. The ice had not completely melted off before we needed to leave, so I had to push the huge sheets of thick ice off the slide toppers so the slides could come in without damage. Since the ground was still fully encased in ice on the shaded side, I felt like I was performing in the icecapades. With some luck and only minimal sliding around, I got the slide toppers cleared and we were on our way.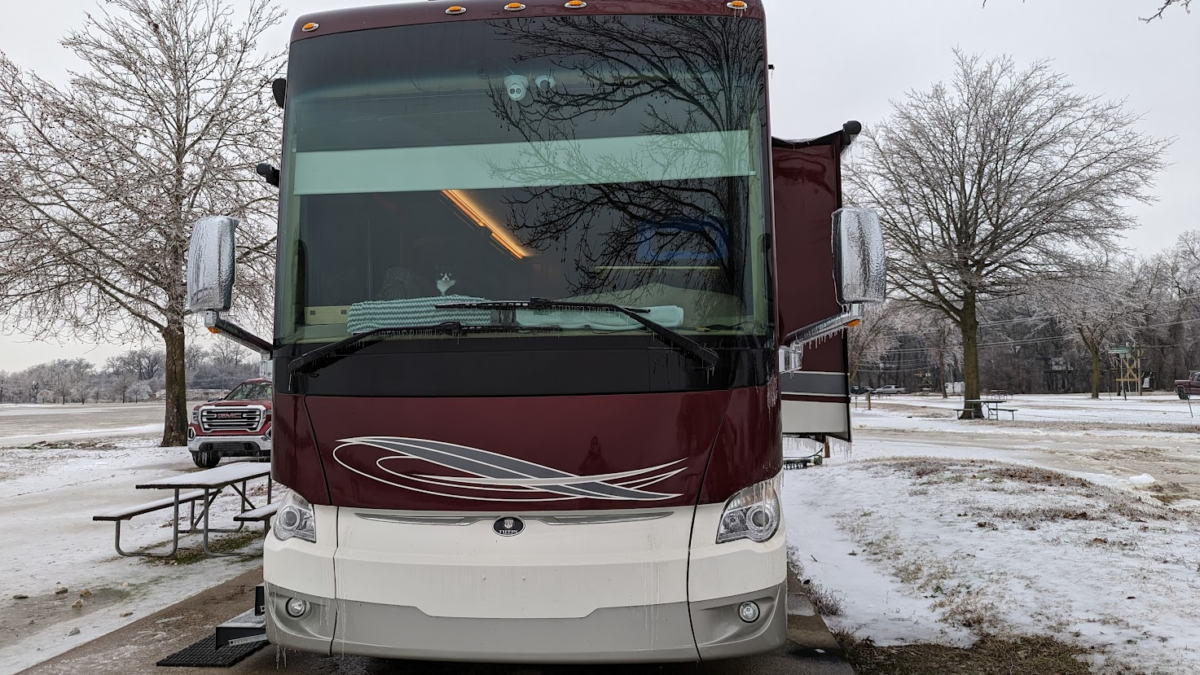 Texas
After arriving in Texas, our tiny canine fur-kid Fiona started experiencing pain, apparently from her back. This exhibited when she would try to hop up in the form of a squeal of pain and sometimes a little piddle on the floor. We rushed her to the local vet where they fit her in between scheduled patients, running blood panels and x-rays. They found no indication of a pinched nerve or other anomaly, and her blood work was normal too. So, she was on a course of steroids and pain killers and after a few weeks of that, seemed completely normal again.
We also ordered and installed new Schwintek slide mechanisms on one of our slides. One of the gear blocks had experienced a catastrophic failure. Unfortunately, Tiffin uses a special size of in-wall mechanism and Schwintek only sells the entire assembly, including both full H-brackets, motors and gear / gear blocks. While this greatly increased the cost of the repair ( over just ordering a block replacement kit ), it did provide shiney new parts for "all the things". The slide room now operates normally.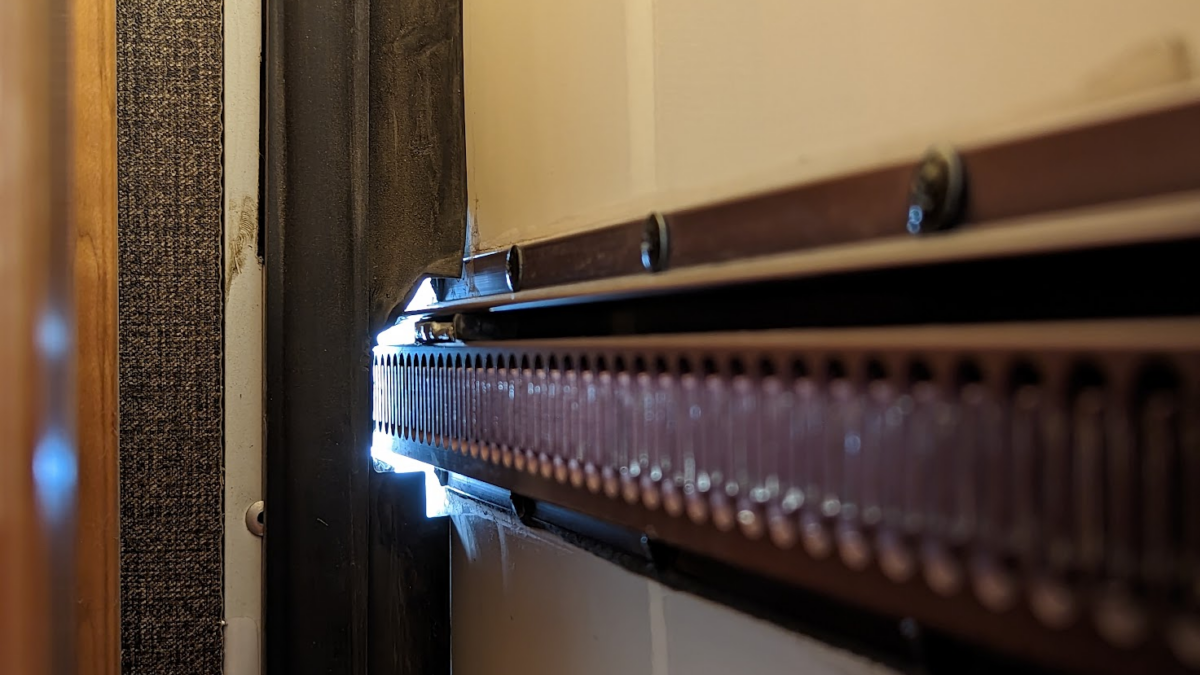 Mississippi / Alabama
After we arrived in Texas, we found out about a new (to us) product – True Topper. It's a product that replaces traditional slide toppers, er.. really, does away with them entirely! This eliminates the need to clear snow/ice from the slide toppers when you're ready to break camp, and eliminates the noise of the topper in high winds! It also removes the deluge of water when the topper turns into a pool during rainy weather. This felt like a must have, considering our toppers were due for replacement anyway, the True Topper was reasonably priced, and we spend a lot of time in windy locations. The down side – they're only installed in two locations.. one on Oregon, and one in Belmont, MS ( just down the street from the Tiffin paint plant ). So, we opted to leave the Rivian and car hauler in the DFW area, back track to Belmont, then pick up the truck + hauler on our way back through, en-route to New Mexico.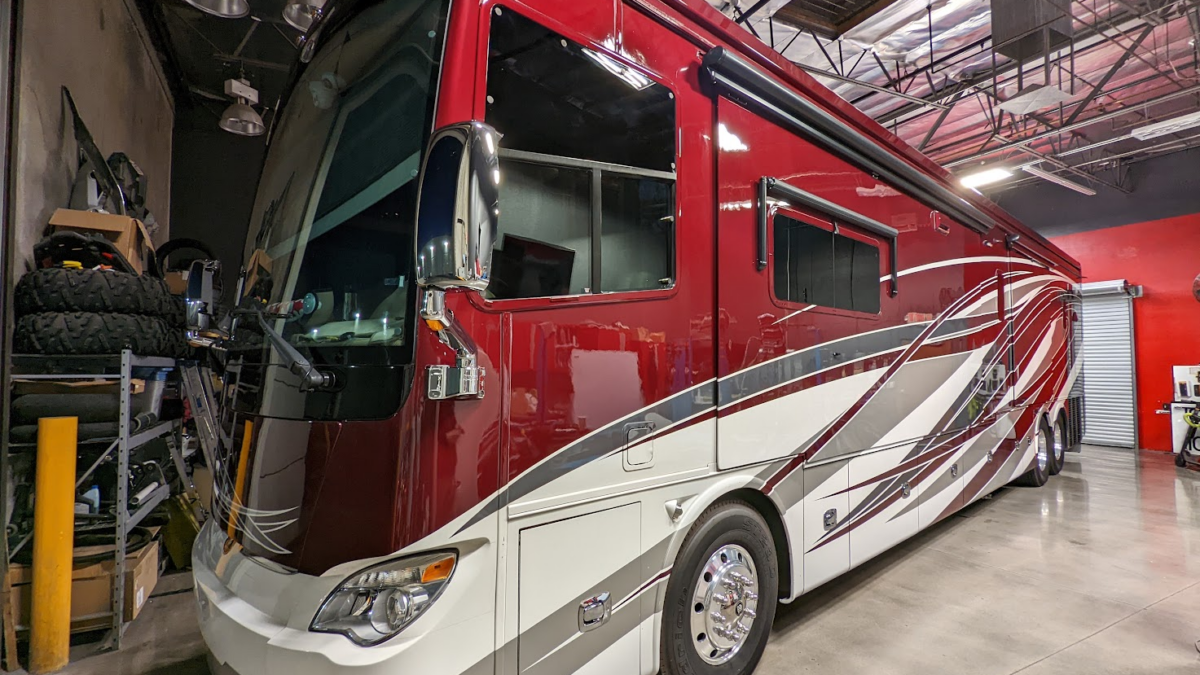 After being tornado warned in Belmont, and having a verified tornado pass only a mile north of the truck + hauler in Texas.. we were eager to get into New Mexico and away from such high energy weather events.
New Mexico
In New Mexico, we added 2160 watts more solar, and 20 kWh more LiPo battery storage to the AstroShed, as well as other miscellaneous updates / upgrades around the observatory. We'd had a few longer runs of cloudy skies / inclement weather at the AstroShed which had caused the shed to shut down to protect the batteries until more Sun brought them up to safe levels again. This upgrade was overkill, but will absolutely prevent any such events into the foreseeable future.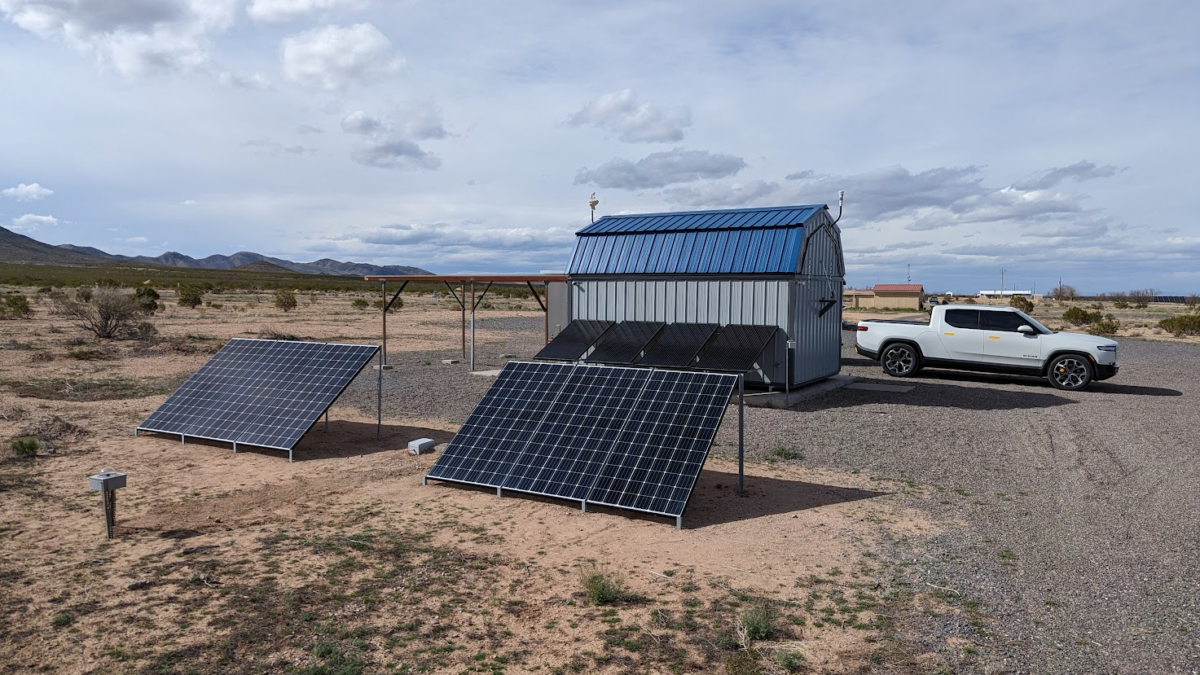 Nevada
Once the upgrades were complete, we made our way back to our lot at LVM Resort in Las Vegas. This brings us current to the beginning of April and to where we started out from for our Winter excursions.
We will be sharing another big announcement shortly.. we've been very busy, even in just this past month! Stay tuned!!!